Moving to Long Beach: A Neighborhood Guide for New Residents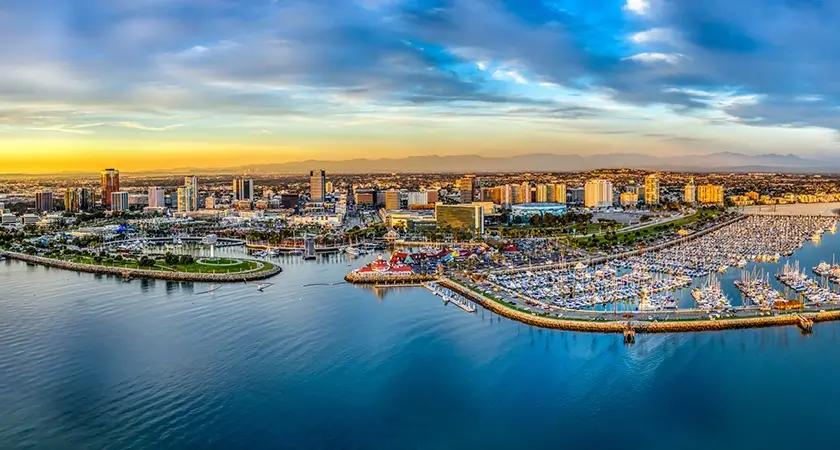 Welcome to Long Beach, California! Maybe you moved here for work, school, or family — it can't be for the housing prices — and if you've moved cross country, you may find the transition jarring.
Long Beach is California's 7th largest city. It's the 2nd busiest port in America by container volume, behind only the Port of Los Angeles.
But Long Beach also has its quiet side, where it's easy to forget you're in a city.
So strap on your touring gear and journey with us through the beaches, neighborhoods, and thriving arts scene of one of California's best-kept secrets.
1. Downtown Long Beach: Where Urban Living Meets Beach Vibes
Stroll along the waterfront, immerse yourself in the wonders of Southern California's largest aquarium, and explore the local art galleries.
If you're looking for a night out, downtown Long Beach gives you a cosmopolitan and satisfying city life without the hassles of Los Angeles traffic.
2. Belmont Shore: A Laid-Back Beach Community
Belmont Shore features charming Spanish-style homes, palm tree-lined streets, and a lively shopping and dining district along 2nd Street. Enjoy a day at the beach, a bike ride along the boardwalk, or indulge in retail therapy at the boutiques.
3. Naples: A Taste of Italy in Southern California
"Naples' may be a misnomer. The city reminds you of Venice, with winding canals and postcard-worthy waterfront properties. Take a gondola ride through the canals, rent a kayak and do your own paddling, treat yourself to waterfront dining with a view, or simply soak in the surroundings. Naples, Long Beach has no Mt. Vesuvius to spoil your day.
4. Bixby Knolls: Historic Charm & Modern Living
Beautiful historic homes dot the tree-lined streets of Bixby Knolls. Historic Rancho Los Cerritos is a favorite destination — this Spanish-style adobe home predates the Mexican-American War. Some say the ghost of Zorro lurks about the grounds (we've never been able to confirm this).
If all this history whets your appetite, drop by Atlantic Avenue with its shops, cafes, and restaurants.
5. Bluff Heights: Where Historic Homes Meet the Ocean Breeze
Bluff Heights blends classic architectural styles, from Craftsman and Spanish Colonial to Mid-Century Modern. Immerse yourself in the panoramic coastline views from one of the bluff-top parks. Admire the vintage homes of Bluff Park.
6. East Village Arts District: Where Creativity Thrives
True to its name, the East Village Arts District is home to art galleries, theaters, and live music venues, showcasing the rich cultural scene of Long Beach. For a unique shopping experience, take advantage of 4th Street's funky retro boutiques and vintage shops.
Foodies will head straightaway to the East Village Arts District, offering everything from craft beers to vegan comfort food.
7. Los Altos: Suburban Tranquility in Long Beach
This residential community has a peaceful and serene atmosphere, with well-maintained parks, top-rated schools, and a strong sense of community. You can hike in El Dorado Park, play at the Skylinks Golf Course, or engage in other recreational activities.
8. Cambodia Town: A Vibrant Cultural Enclave
Long Beach has one of the most diverse populations in the USA. So it's no surprise that Cambodia Town has become a vibrant cultural enclave. You'll find some of the best Cambodian food in the country here, along with shops featuring Southeast Asian decor and trinkets. A trip to Wat Thai Temple is worth your time too.
9. Zaferia: An Up-and-Coming Neighborhood with Character
Zaferia is an up-and-coming neighborhood known for its trendy restaurants and local watering holes. Visit the historic Fire Station 5, shop at the local farmers market, or explore the nearby Mayfair Park.
Zaferia is an eclectic blend of old and new — perfect for those looking for something different.
10. North Long Beach: A Suburban Haven with Strong Community Spirit
This family-friendly neighborhood features well-maintained parks, affordable housing options, and a strong community spirit. Houghton Park is a sprawling green space with playgrounds, sports fields, and picnic areas. Check out the annual Martin Luther King Jr. Parade and Festival in January for a sample of Long Beach culture.
11. Willmore City: Historic Charm & Architectural Heritage
Willmore City showcases beautifully preserved Victorian and Craftsman architecture. Take a walking tour of the neighborhood, spend a lazy afternoon at Drake Park, or learn about the area's history at the Long Beach Heritage Museum.
12. Rose Park: Quaint Streets & Lush Greenery
Rose Park is notable for its quaint streets and lush greenery. This residential neighborhood offers a peaceful and picturesque setting, with tree-lined streets and well-maintained gardens. Explore the local cafes, browse the unique boutiques, or go for a walk.
13. Wrigley: A Neighborhood with a Strong Sense of Community
The Wrigley neighborhood exudes a strong sense of community and pride. This residential area, named after the famous baseball stadium, features a mix of architectural styles, including Craftsman, Spanish Colonial, and Mid-Century Modern. Attend the annual Wrigley River Run, join the neighborhood association, or enjoy a picnic in Veterans Park. Wrigley is a tight-knit community where neighbors become friends.
14. California Heights: Suburban Living with a Retro Vibe
With its well-preserved Spanish Colonial Revival homes, this area has a distinctly retro vibe. Walk along the wide tree-lined streets, visit the local cafes and shops, or attend the annual California Heights Home and Garden Tour.
15. West Long Beach: Industrial Heritage & Resilience
West Long Beach is home to the Port of Long Beach, one of the busiest ports in the world. Explore the historic warehouses, tour the Aquarium of the Pacific, or watch the container ships come and go in the harbor. The Westside has overcome significant challenges to become a top destination in Long Beach.
16. Traffic Circle: A Roundabout Neighborhood
The Traffic Circle neighborhood is named after its distinctive roundabout intersection, which connects several streets. You can explore the local boutiques and cafes or check out the farmer's market on Sunday.
Visit Recreation Park, drive to the nearby beach, or stroll through the area with its Spanish Colonial, Craftsman, and Mid-Century Modern houses.
17. Virginia Country Club: Fine Living & Prestigious Golf
The Virginia Country Club offers world-class golf and a luxurious clubhouse in an affluent setting. This is no casual golf course: "Conservative dress is expected of all Members and their families and guests."
But if your golf tastes tend toward the traditional (and more exclusive), and you plan to follow your round of golf with a first-class dining experience, then the Virginia Country Club might be right up your fairway.
Spend the day on the links or enjoy some of the finest dining in Long Beach. Even if you don't belong to the club, you can still take in the lush surroundings and appreciate this neighborhood's elegant beauty.
18. Poly High: A Vibrant Neighborhood with a College Vibe
The Poly High neighborhood surrounds the California State University, Long Beach campus. With its youthful energy, this area is a favorite among students and young professionals. Attend a sporting event at the Walter Pyramid or while away the hours in the nearby Earl Burns Miller Japanese Garden.
This part of town offers plenty of cafes, restaurants, and some of the best sights and shopping. You can find real bargains at the thrift stores or people-watch along 2nd Street.
19. El Dorado Park: Nature's Playground in Long Beach
El Dorado Park is a sprawling green oasis in Long Beach, a haven for outdoor enthusiasts. This expansive park features picnic areas, walking trails, a golf course, and a nature center. Bike riding, family picnics by the lake, and bird-watching are popular here.
Alamitos Beach: Urban Living by the Ocean
Alamitos Beach is an urban neighborhood combining the convenience of city living with proximity to the ocean. This area offers a mix of apartments, condos, and single-family homes and attracts a diverse community. Enjoy the local cafes and eateries, a bike ride along the beach path, or soak up the sun on the sandy shores.
Conclusion
Moving to Long Beach can be daunting at first, but with the help of our guide, you'll feel right at home in no time. Don't hesitate to explore the city's many hidden treasures — there's something for everyone! Whether you're looking for an urban vibe or a quiet spot in nature, Long Beach has it all.
Want to learn more about the City of Long Beach? Head over to VisitLongBeach, the official travel site for the city. From attractions and events calendars to hotel listings and restaurant reviews, VisitLongBeach has you covered. So what are you waiting for? Start planning your Long Beach adventures today!