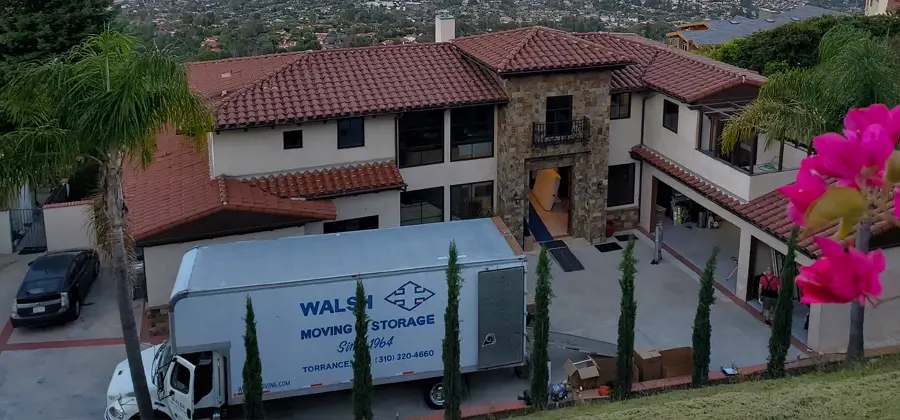 The Walsh primary local service area includes cities close to Torrance and Long Beach. We serve all of Southern California and will deliver anywhere in the lower 48 United States.
What Is a "Local Move?"
In the moving business, a "local move" is an in-state move traveling 100 miles or fewer.
For Walsh, a local move is anything close to Torrance or Long Beach, CA.
As long as your move begins or ends within 40 miles or so of our warehouses and covers a short distance, you're in our local service hotspot: Los Angeles and Orange Counties, and parts of Riverside and San Bernardino Counties.
Short-Distance Moving Help by the Hour
We charge flat hourly rates for all short-distance moving services.
$130 an hour for packing and moving. This flat fee includes two professional movers and one truck.
We can add a third mover to the crew for $50 an hour.
There's a minimum commitment of two and a half hours per trip, calculated from the time we leave the warehouse until we return to the warehouse.
Walsh accepts all major credit cards. If you pay your bill in cash, we'll take 10% off.
There are no taxes, no fuel surcharges, and no hidden fees.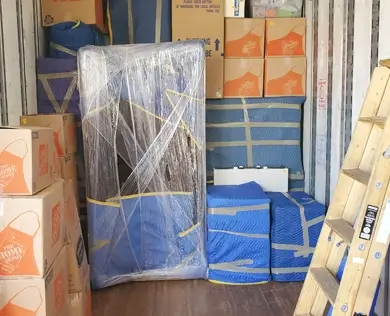 Examples of Local Moves
Torrance to Riverside
Claremont to Long Beach
Long Beach to Irvine
Redondo Beach to Hermosa Beach
Downey to Santa Clarita
Hawthorne to San Diego (no longer short distance, but you get the idea)

The Less We Drive, The Better It Is for You
A local move in Ventura from point A to point B would entail several hours of travel for Walsh crew.
Our services might not seem reasonable after 5 hours of transit in rush hour traffic are factored into your 5-block change of address.
That's just one reason why most of our business falls within metro Los Angeles and Orange County. These areas are a short distance away from our dispatch centers in Torrance and Long Beach.
Our goal is to provide the best possible moving service at a fair price. Moves close to Torrance and Long Beach make the most sense for our local customers.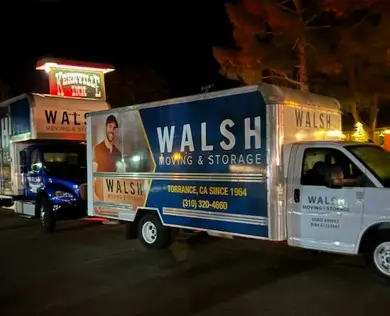 Video: What Makes Walsh Moving & Storage Different?
Thomas Sapper, owner of Walsh Moving & Storage, discusses his business. Learn what makes Walsh different from other moving companies, small and large, and why a guaranteed quote is so important to you, the customer.
Our Local Moving Services: Breaking It Down by Type
In-Home & Company In-Office Moves
It doesn't get more local than this! Some customers hire us to haul furniture from one floor of a building to another floor. Or we might dismantle a bulky cabinet and wheel it to another room.
Another common scenario is the in-home or in-office move combined with temporary storage.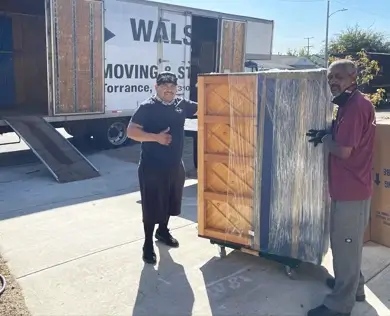 Moving & Short-Term Storage
The classic example of a need for moving and storage is office renovation, where an entire facility is being recarpeted, repainted, rewired, and reorganized.
We can pick up your desks, chairs, and office equipment, keep them in storage for a month or two, and deliver them to you when the renovation is complete.
Or you might be living abroad for a year and leasing your home to a friend while you're away. You've decided to leave the house furnished, but wisely, you're placing antiques and other valuables in protective custody.
We can pack your cherished belongings in vaults, transfer them to our secure warehouse, and hold them until you return.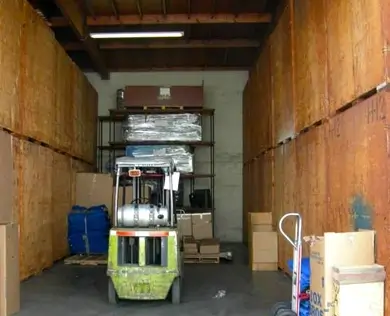 Apartment Moves
After a decade in the same apartment unit, it may come as a shock when you take inventory of your situation. You're 10 years older, subject to occasional aches and pains, and there's much more stuff to move now than there was when you moved in. Moving is no longer as easy as it used to be!
Plus, there's the health of your friends if you enlist friends to help. Did you know you can be held liable for any injuries that occur?
Walsh movers are trained to practice safe moving techniques and to work as a team. They're also fully insured! If anything happens to them or your possessions, Walsh pays the bill.
We can move you from an apartment to a newly purchased house, or from one apartment to another, even within the same apartment complex. At some point, the savvy movers in LA tire of lugging heavy objects and call Walsh to do the lugging for them. Don't wreck your back dragging that massive recliner sofa down the stairs yet again. Call Walsh Moving instead.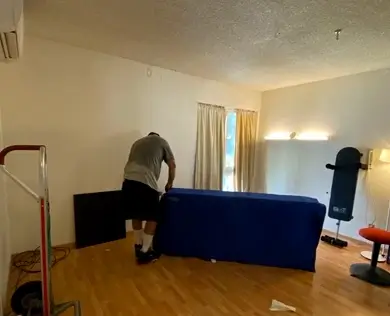 House-to-House Moves
Walsh local trucks are big enough to move a 5-bedroom house. Our long-haul trucks pull full-size trailers with the capacity for a modest mansion.
Clearly, house-to-house moves are trickier than apartment moves, involving large furniture, kitchen appliances, and decades' worth of accumulated possessions.
In our 55+ years, we've moved thousands of Los Angeles area homes and businesses. If there's anything we can't handle, we have yet to encounter it.
The more we help with your house-to-house move, the smoother it will be. For instance, you might hire us to do a portion of your packing, at least for fragile items like glassware, for fine art, and for antiques.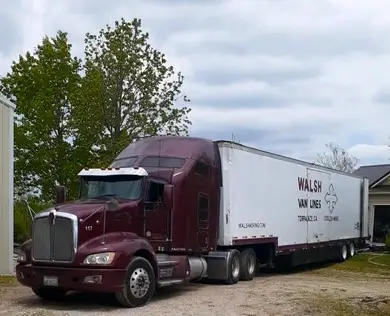 Antiques & Piano Moving
Antiques require special treatment. Pianos are bulky, heavy, and surprisingly delicate for their size. A tight corner, a single entrance step, and even sidewalk cracks can pose significant obstacles when it comes to an object that weighs half a ton, has the flexibility of a brick, and can be marred by the slightest mishandling.
At Walsh, we follow specific techniques to move the prized possessions you never dreamed of moving until now. For your piano, we might even diagram the process with the intricacy of a Bach fugue.
We'll make sure your most valuable belongings remain in mint condition.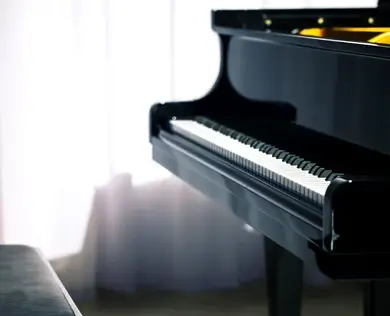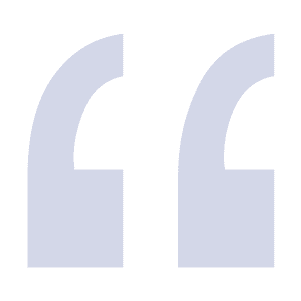 "THESE GUYS ARE THE BEST :D"
Zainab N.
Torrance, CA
Yelp, 7/29/2020
Recently moved with Walsh Moving & Storage and couldn't have had a better experience. Ricardo is an excellent and responsive account manager… We were able to connect, face time and come up with a plan for the move.
… I only utilized Walsh for BIG furniture items like couches, fridge, bed etc and boxes – I did not have them pack any knick knacks, food or clothing. Ricardo was able to give me a reasonable estimate of ~$780 for 3 men for 5.5 hours — which I thought was a steal!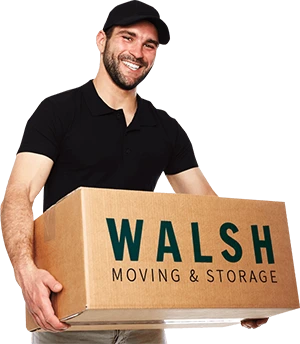 Why Walsh Professional Moving?
We take ownership of your move from start to finish. We don't subcontract or hire out any portion of your move to other companies.
We guarantee your local moving pickup and delivery date. Some other companies aren't able to do this.
We have an A+ rating with the Better Business Bureau.
We carry full insurance. If anything breaks during your move (unlikely), Walsh pays for the damage in most cases.
Walsh movers are covered by company medical and Worker's Compensation. But if someone gets hurt during your DIY move, you, the homeowner or renter, could be liable.
Walsh offers short-term storage for companies and customers in transition. If your permanent digs aren't ready, we'll keep your things in secure vaults or trailer storage until they are.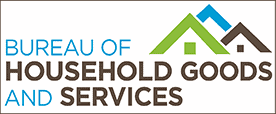 We're BHGS-Authorized Movers
In California, the Bureau of Household Goods and Services (BHGS) regulates household movers.
What does this mean to you as you research the Internet for "mover near me" and "affordable moving"?
All reputable California-based intrastate movers register with the BHGS to receive authorization to operate.
The BHGS keeps a record of all complaints filed against moving companies. If you wonder about our track record, look it up, and not just on Yelp and other review sites (where some reviews are purchased).
At Walsh Moving & Storage, we're proud of our long history of safe, reliable service. We invite you to examine the official record.