The Hidden Gems of Long Beach: Exploring the City After Your Move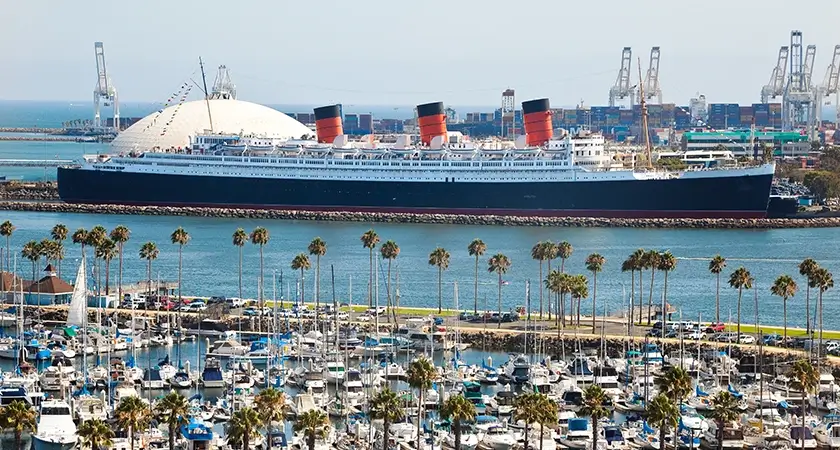 Long Beach, California, is a city brimming with hidden gems. Whether a newcomer or a long-time resident, exploring the metro area after your move will unveil a vibrant tapestry of culture, history, and natural beauty. From picturesque waterfronts to diverse neighborhoods, Long Beach offers many experiences that will captivate you. This article will uncover the hidden gems that make Long Beach a truly unique and enchanting city.
The Long Beach Waterfront: A Haven of Serenity
The Long Beach waterfront is an absolute jewel that offers a serene escape from the hustle and bustle of everyday life. Stretching for miles along the Pacific Ocean, this picturesque coastline boasts pristine sandy beaches, breathtaking sunsets, and a refreshing ocean breeze. Stroll along the beach or rent a bike to explore the scenic bike paths that meander alongside the shore. The waterfront is also home to the iconic Queen Mary, a historic ocean liner turned hotel and museum. Step aboard this magnificent vessel and immerse yourself in its rich maritime history.
Exploring Belmont Shore: A Quaint Coastal Community
Nestled along the coast, Belmont Shore is a charming neighborhood that exudes a laid-back beach town vibe. With its tree-lined streets, boutique shops, and sidewalk cafes, this hidden gem offers a delightful escape from the city's hustle. Take a leisurely walk along 2nd Street, the heart of Belmont Shore, and discover a treasure trove of unique shops and restaurants. Indulge in a delectable meal at local eateries, or soak in the vibrant atmosphere as you watch the world go by.
The Artistic Haven of East Village Arts District
The East Village Arts District is an absolute must-visit for art enthusiasts and creative souls. Located in the heart of downtown Long Beach, this vibrant neighborhood is brimming with art galleries, theaters, and eclectic street art. Immerse yourself in the local art scene by visiting the numerous galleries showcasing a diverse range of artwork. Catch a live performance at one of the theaters or wander through the streets, where colorful murals breathe life into the city's walls. The East Village Arts District is a haven for creativity and self-expression.
El Dorado Nature Park: A Tranquil Oasis
Escape the urban landscape and immerse yourself in the tranquility of El Dorado Nature Park. This 800+ acre hidden gem offers a serene retreat for nature lovers. Explore the park's lush greenery, pristine lakes, and winding trails that meander through the natural landscape. Pack a picnic and unwind amidst the peaceful surroundings, or engage in outdoor activities such as birdwatching, fishing, or boating. El Dorado Nature Park is a true oasis in the city's heart.
Naples Island: A Hidden Waterfront Paradise
Nestled in Alamitos Bay, Naples Island is a hidden gem that will transport you to a Mediterranean paradise known for its enchanting canals and charming waterfront homes. This idyllic neighborhood offers a unique and picturesque experience. Take a gondola ride along the canals and marvel at the beautiful architecture that lines the shores.
The Historic Rancho Los Cerritos: A Glimpse into the Past
Step back in time and uncover the rich history of Long Beach at the historic Rancho Los Cerritos. This adobe ranch house, built in 1844, showcases the early Californian lifestyle and offers a fascinating glimpse into the city's past. Take a guided tour through the meticulously restored rooms and beautifully landscaped gardens, where you can learn about the ranch's agricultural heritage and the families who once resided here. Immerse yourself in past stories as you explore this hidden historical gem.
Bluff Park: Scenic Views and Tranquil Retreats
Bluff Park offers breathtaking panoramic views of the Pacific Ocean and the city skyline atop a coastal bluff. This expansive park is perfect for a stroll, a picnic with friends, or a peaceful moment to enjoy the natural beauty surrounding you. Wander along the walking paths lined with vibrant flowers and towering palm trees, or find a cozy spot on the grassy knolls to relax and enjoy the awe-inspiring scenery. Bluff Park is a hidden sanctuary where you can escape the city's bustle and find solace in nature.
Bixby Knolls: A Quaint Neighborhood with a Retro Charm
Venture into the neighborhood of Bixby Knolls, and you'll discover a hidden gem that exudes a nostalgic charm. Known for its retro-inspired shops, vintage boutiques, and quaint cafes, Bixby Knolls offers a unique shopping and dining experience. Stroll down Atlantic Avenue and explore the local businesses celebrating the neighborhood's rich history. From antique treasures to handcrafted goods, there's something for everyone in this hidden gem of Long Beach.
The Museum of Latin American Art: A Cultural Haven
Immerse yourself in the vibrant world of Latin American art at the Museum of Latin American Art (MOLAA). Located in downtown Long Beach, MOLAA is the only museum in the United States dedicated solely to modern and contemporary Latin American art. Explore the impressive collection of paintings, sculptures, and multimedia exhibits that showcase the diverse cultural heritage of Latin America. Attend one of the museum's rotating exhibitions or participate in educational programs that celebrate the art and culture of this dynamic region. MOLAA is a hidden gem that offers a unique and enriching cultural experience.
Rosie's Dog Beach: Paradise for Four-Legged Friends
Long Beach is not just a city for humans—it's also a haven for our furry companions. Located along Ocean Boulevard, Rosie's Dog Beach is a hidden gem where dogs can frolic and play to their heart's content. This off-leash dog beach spans over three acres and provides ample space for dogs to run, swim, and socialize with other canine friends. Watch as your furry companion explores the sandy shore and takes a refreshing dip in the ocean. Rosie's Dog Beach is a paradise for dogs where pet owners can create lasting memories with their beloved pets.
The Aquarium of the Pacific: A Marine Wonderland
Dive into the wonders of the ocean at the Aquarium of the Pacific. Located near the Long Beach waterfront, this world-class aquarium is home to an astonishing array of marine life from the Pacific Ocean and beyond. Explore the interactive exhibits and get close to fascinating creatures such as sharks, sea turtles, and vibrant tropical fish. Attend captivating shows and educational presentations that shed light on the importance of marine conservation. The Aquarium of the Pacific is a hidden gem that allows visitors of all ages to connect with the beauty and diversity of our underwater world.
Conclusion
Long Beach has something for everyone, from picturesque waterfronts and vibrant neighborhoods to cultural havens and natural retreats. Whether you're a new resident or a visitor, venture beyond the surface and discover the unique experiences that make Long Beach truly special. So pack your curiosity and embark on an adventure to uncover its hidden treasures.
Related Links
Frequently Asked Questions about Long Beach
What are some family-friendly activities in Long Beach?
Long Beach offers plenty of family-friendly activities that will keep everyone entertained. Visit the Aquarium of the Pacific, where kids can marvel at colorful marine life and learn about conservation. Take a trip to the Pacific Island Ethnic Art Museum, which showcases art and culture from the Pacific Islands. Head to El Dorado Nature Park for outdoor fun, where families can enjoy picnicking, hiking, and wildlife spotting.
Are there any scenic spots in Long Beach for photography enthusiasts?
Long Beach has beautiful and unique locations, perfect for any photography enthusiast. Bluff Park provides stunning coastline views and is perfect for snapping breathtaking sunsets. The romantic bridges and picturesque waterfront homes of the Naples Canals are an ideal setting. The Queen Mary, with its iconic silhouette, is an excellent subject. And the colorful and unique street art in the East Village Arts District is a popular backdrop and subject.
Where can I find the best local cuisine in Long Beach?
Long Beach boasts a vibrant culinary scene with a diverse range of cuisines. For delicious seafood, head to the waterfront area and try one of the seafood restaurants offering freshly caught delights. 4th Street Retro Row is known for its trendy eateries and cafes, serving various cuisines, from Mexican to Japanese. For an authentic taste of Long Beach, take advantage of the local favorite, the Long Beach Pike Restaurant, where you can enjoy classic American comfort food.
Are there any hidden hiking trails in Long Beach?
While Long Beach is known for its coastal beauty, hidden hiking trails are waiting to be discovered. Signal Hill Park offers a short but rewarding hike with panoramic views of the city and the ocean. The Dominguez Gap Wetlands Trail is another hidden gem, providing a serene nature escape with various bird species to spot. El Dorado Park Nature Center offers peaceful trails that wind through wetlands and woodlands, providing a tranquil hiking experience.
Can you recommend any unique shopping experiences in Long Beach?
Certainly! Retro Row on 4th Street is a must-visit for vintage lovers, with retro-inspired shops offering clothing, accessories, and home decor. In the East Village Arts District, you'll find a mix of eclectic boutiques showcasing local artists and unique handmade goods. Long Beach Antique Market is a treasure trove for antique enthusiasts, with vendors offering a wide selection of vintage collectibles, furniture, and more.
What are some annual events and festivals in Long Beach?
Long Beach hosts several exciting annual events and festivals throughout the year. The Long Beach Grand Prix is a renowned motor racing event that attracts racing enthusiasts worldwide. The Long Beach Jazz Festival celebrates the rich musical heritage of the city, showcasing performances by top jazz artists. The Long Beach Bayou Festival brings the vibrant culture of New Orleans to Southern California, featuring live music, Cajun cuisine, and Mardi Gras-inspired festivities.