Moving Boxes 101: What to Buy, What to Use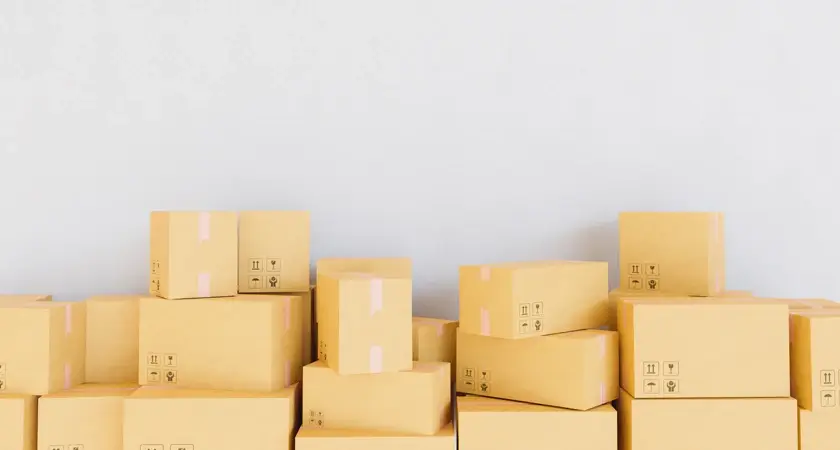 Moving Boxes Vs Shipping Boxes: Is There a Difference?
Yes, there is a difference! Shipping boxes are often free — you may already have a few lying about the house, or you may be planning a night of dumpster diving behind the local office supply store.
All kidding aside, most moving boxes don't differ much from ordinary shipping boxes. They're usually made with the same weight of cardboard, with the obvious exception of heavy-duty moving boxes made for extra-heavy loads.
So the question is, do you need to purchase all-new moving boxes, or can you make do with the free shipping boxes you're able to scrounge?
You can probably get by with a combination of both: some free shipping boxes, and a greater number of purchased moving boxes.
A rule of thumb is that no box should be packed to more than 50 lbs. Go lighter if you can — much lighter. Your back will thank you for it, and you'll experience less damage to your belongings in transit.
You'll run out of boxes much faster than you realize. Even the most fruitful night of dumpster diving is unlikely to produce enough boxes for an apartment move, let alone a multi-bedroom house.
New boxes will almost invariably hold up better than boxes that have been used repeatedly, or even once before.
Some fragile or unusually shaped items should be packed in specialized boxes. Examples include wine goblets, TVs, pictures, and standing lamps.
One clear advantage of moving boxes is their limited size variance. If you intend to pack your truck with the stability of an ancient Incan wall, you'll find that more uniform sizes allow you to pack the truck tight. There will be far less load shifting on the bumpy truck lane of the highway.
Boxes You May Need for Your Move
1.5 cubic foot moving box
Dimensions: 16 x 12 1/2 x 12 1/2 inches. It's the box most commonly used, capable of handling up to 60 lbs. Again, try to keep weight under 50 lbs.
This box is ideal for books, kitchen items, dishes, fragile items, small appliances, table lamps, or lampshades.
3.0 cubic foot moving box
Dimensions: 18 x 18 x 16: Can safely carry up to 65 lbs; great for clothing, pots and pans, and electronics.
4.5 cubic foot moving box
Dimensions: 18 x 18 x 24. Can safely carry up to 65 lbs; best for larger lamps, linens, and larger kitchen appliances.
6.0 cubic foot moving box
Dimensions: 22 x 22 x 21 1/2. Can carry up to 70 lbs, but a word of caution: don't overstuff this box or load it with heavy items! Use it for pillows, toys, large blankets, and couch and chair cushions.
6.1 cubic foot moving box
Dimensions: 24 x 18 x 24. The rectangular shape of this box makes it perfect for folded blankets, comforters, and cushions. Use it for light, bulky objects that don't fit properly in a 6.0 cubic box.
Dish pack boxes
As the name suggests, dish pack boxes are designed to carry glasses, cups, or liquor and wine bottles. Extra-sturdy corrugated cardboard and double-wall construction provide extra protection. Dish packs are also compartmentalized to keep glasses separate.
Avoid the temptation to overpack them, which can lead to dropped boxes, shattered goblets, and much wailing and lamentation.
Hanging wardrobe boxes
Wardrobe boxes come in small, medium, and large sizes. Their distinguishing feature, apart from their voluminous wardrobe-like shape, is a built-in metal bar for hanging clothes. They're heavy, and they take up a lot of room, but this nuisance is counterbalanced by the time and inconvenience they save in a move.
Some movers use wardrobe boxes to transport chandeliers or delicate wind chimes.
If you hire a moving service like Walsh, reusable wardrobe boxes are included in the total cost of the estimate, sparing you the trouble and expense of going on the hunt for them. Dumpster diving will get you nowhere. It's unlikely you'll ever find an intact wardrobe box among the crushed and dispirited boxes for copy paper.
Lay down wardrobe boxes
Approximate dimensions: 32 x 19 7/8 x 9. These wardrobe boxes look like dresser drawers. Pack them with t-shirts, underwear, socks, and clothing that you prefer to only fold once. These boxes can't hold heavy items. Do not overpack.
Picture & mirror boxes
All mirror boxes can be telescoped, another way of saying that you can put two boxes together for a longer fit.
When you fit two boxes together, secure them with strong filament tape. Mirror boxes can handle framed pictures, artwork, and mirrors, all of which should be swaddled with bubble wrap inside the box for extra protection.
Mattress boxes
Most movers will wrap your mattress in plastic bags and blankets unless you insist on a mattress box. The real value of a mattress box comes with long-distance moves or more extended storage.
Mattress boxes protect against punctures far better than blankets, and they'll help a mattress retain its shape against compression.
Mattress boxes come in all mattress sizes, from crib to twin to king-size.
TV boxes
TV boxes are similar to picture and mirror boxes, only stronger. They're adjustable, just like picture boxes, made with two telescoping sections. They usually include foam inserts to keep the TV from being jostled inside the box.
Storage containers
Most people already have a few plastic storage containers tucked away in closets, spare rooms, or the garage. To prepare these for a move, you only have to pack them tight and tape them shut.
Garbage bins
Yes, you read that right. Garbage bins. The humble household garbage can is easily one of the least utilized moving containers, great for those items that are difficult to pack. They take up little space and are much tougher than cardboard boxes.
Clean them thoroughly before packing, obviously.
Use them for:
Yard tools like rakes, shovels, and trimmers
Home tools like your brooms, mops, and dusters
Boxes of nuts, bolts, screws, and nails
Shop tools such as saws, hammers, and wrenches
Automotive stuff like extra oil, windshield wiper fluid, and cleaning supplies
Holiday decorations such as wreaths, lights, and ornaments
Gardening equipment like plant food, fertilizer, or extra bags of topsoil
Related Links