In-Home & In-Office Furniture Moving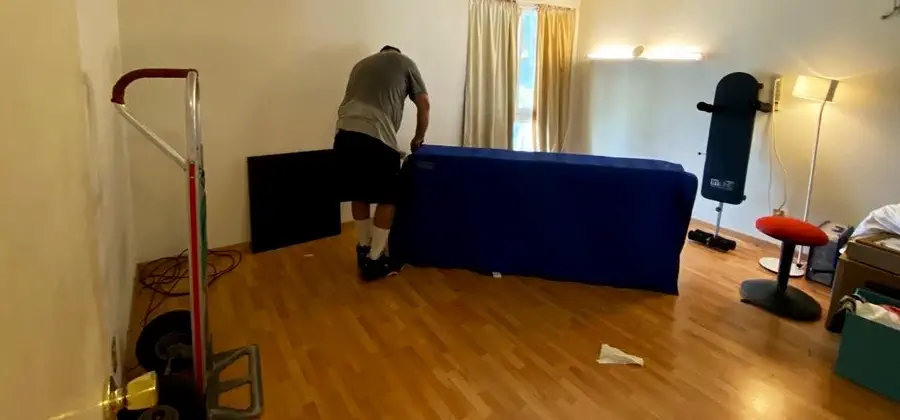 Walsh can move the furniture within your home or business. We can store that furniture in our secure warehouse during a home or office renovation or while you're waiting for your new house to clear escrow. We move everything from office chairs to pianos.
Moving or Just Reorganizing, Walsh Can Help
Not every professional move involves a truck. We do our fair share of in-home and in-office moves, where boxes and furniture may never leave the building.
It sounds so easy. You're just moving a few things around the house, right?
But have you ever tried to push a piano on carpet or hoist a sofa over a porch railing and through a sliding glass door?
These tasks are much easier and safer for trained and experienced Walsh movers than for the average person. Plus, Walsh professional movers are insured. Not just for injuries sustained (and they're far less likely to get hurt than you) but for any damage that occurs to your things.
What happens when your hand slips and your family heirloom piano takes a tumble? You'll be playing the saddest of tunes.
Call us instead.
On-Site Moving Rates
We charge flat hourly rates for all on-site moving services.
$130 an hour for packing and moving. This flat fee includes two professional movers and one truck.
We can add a third mover to the crew for $50 an hour.
There's a minimum commitment of two and a half hours per trip, calculated from the time we leave the warehouse until we return to the warehouse.
Walsh accepts all major credit cards. If you pay your bill in cash, we'll take 10% off.
There are no taxes, no fuel surcharges, and no hidden fees.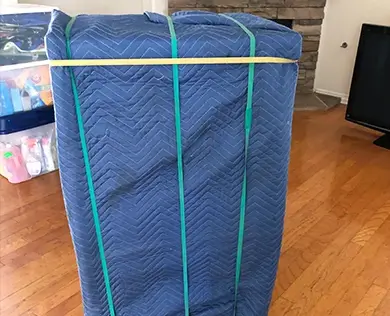 Heavy Lifting
Congrats, you've converted the garage into a music room. Now how do you maneuver that baby grand piano from one end of the house to the other, ease it over the steps of your split level home, and coax it through the entrance of your new music fiefdom?
Where there's a Walsh there's a way. We've moved and delivered dozens of pianos without a scratch. We'll even store that baby grand in our warehouse while you're renovating your home. But for that, we'll need the truck.
Moving Furniture Up or Down the Stairs
Are you up to the task of hauling that massive recliner couch up the stairs? Maybe you manage to negotiate the stairs, but the couch won't squeeze around a corner of the landing and through the door. Now you're really stuck.
Our movers won't make that mistake. They'll know there's a better way to finesse that cumbersome couch to its place of honor in front of your giant 4K OLED TV.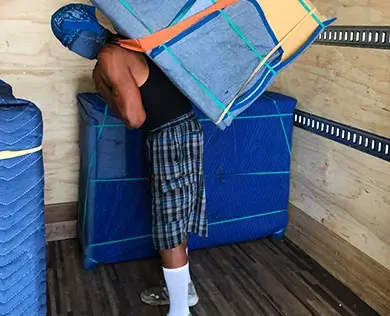 Loading & Unloading a Container or Storage Pod
Load the hand truck or dolly, wheel it ever-so-gingerly through the house and out the front door, down the sidewalk, over the driveway, and to the storage pod.
Now unload the hand truck, carefully stack the boxes in the storage pod, and trudge back to the house to repeat the procedure another 80 times.
It's just like reps at the gym! Your smartwatch signals a major calorie burn.
Wouldn't you rather have us do the lifting instead while you enjoy your weekend? Or while you work out at the air-conditioned gym and not in 100-degree heat?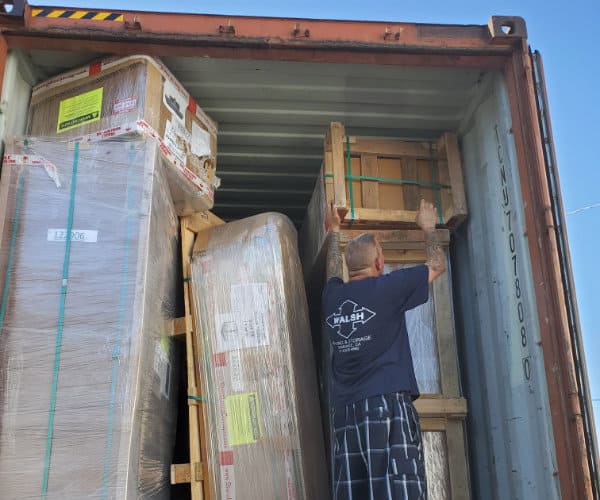 Contact Us Now for Your Moving Quote
The quote sets the price of Walsh moving services.
There are no surcharges, no taxes, no hidden fees. No obligation to hire us.
Call Walsh today at 310-320-4660 or contact us via our online form.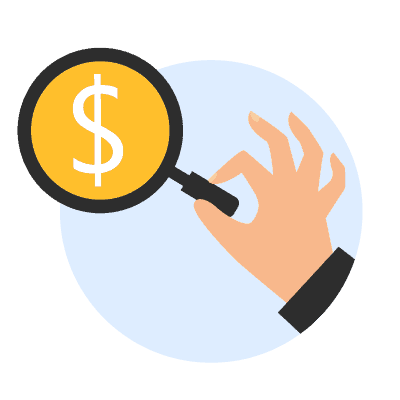 Home & Office Reorganization
The office re-org is a frequent customer at Walsh. We're talking about desks, cabinets, copiers, and chairs, not confusing company organization charts done in PowerPoint.
Maybe the office is expanding to another floor of the building or relocating to another floor entirely. Maybe it's being reconfigured to accommodate new conference rooms and executive space.
We'll help with the logistics of that office choreography, so there's a minimum of disruption. The office will keep humming, coffee machine and all.
The same principles apply to home reorganization, only on a smaller scale. Have you always dreamt about restructuring your living space, only you've dreaded the prospect of dealing with the 300-lb console and the 150-lb mega-sofa? Call us.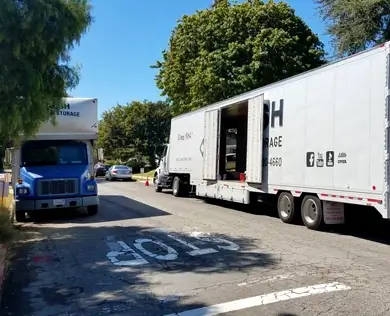 Home & Office Renovation & Remodeling
Renovation goes well beyond reorganization. Here, large swaths of a home or office are recarpeted, repainted, rewired, or completely reconfigured. Old walls are knocked out, and new walls go in.
While all this is happening, the furniture and equipment have to be moved somewhere, right?
If you're a homeowner, a spare room or the garage might serve as temporary storage. Or you might consider a Walsh temporary storage solution, vault or trailer, where we pack your things and transfer them to one of our secure warehouses during the renovation.
If you're a business owner, you almost certainly will need off-site storage. A trailer might be your best option, packed by Walsh and parked on a secure Walsh warehouse lot.
Call us to discuss your options.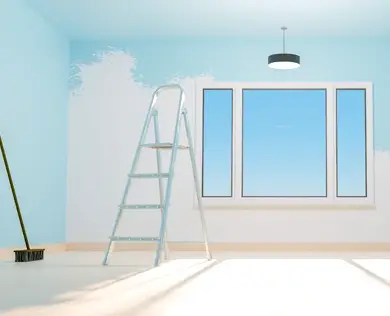 Piano Moving
Pianos are delicate things that can weigh half a ton or more. Moving them is such a unique skill that it deserves its own category.
From Baldwin uprights to Yamaha grands, we move them all with the utmost care. We also move anything that might look and weigh like a piano — upright electronic organs, for example.
We pad and wrap the piano to protect its finish.
If the piano is being loaded onto a truck or moved for storage, we remove legs, pedals, music stands, and anything else that might be damaged in transport.
We place it on a piano board or dolly for transport.
If we store the piano in our warehouse, we'll keep it in a special area reserved for pianos. It will be among piano friends until it's time to go home. Your piano move will end on the happiest note.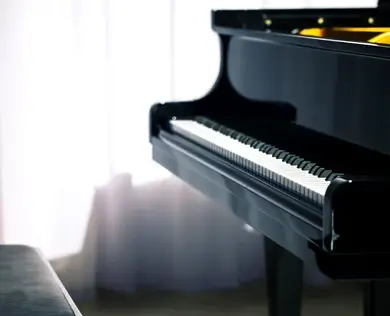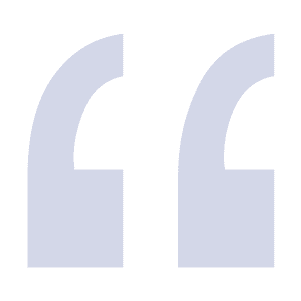 "Professionalism, Punctuality, Quality, Value"
Sue L.
Google Reviews, 2021
Walsh Moving was professional from beginning to end of our move. They gave us an accurate estimate of cost and did a careful, efficient job. We had the amazing team of Roy, Eric, and Dan! These guys are friendly and knowledgeable. Highly recommend!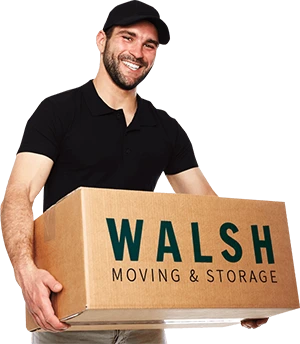 Why Walsh Professional Moving?
We take ownership of your move from start to finish. We don't subcontract or hire out any portion of your move to other companies.
We guarantee your local moving pickup and delivery date. Some other companies aren't able to do this.
We have an A+ rating with the Better Business Bureau.
We carry full insurance. If anything breaks during your move (unlikely), Walsh pays for the damage in most cases.
Walsh movers are covered by company medical and Worker's Compensation. But if someone gets hurt during your DIY move, you, the homeowner or renter, could be liable.
Walsh offers short-term storage for companies and customers in transition. If your permanent digs aren't ready, we'll keep your things in secure vaults or trailer storage until they are.