Commercial Moving & Relocation Services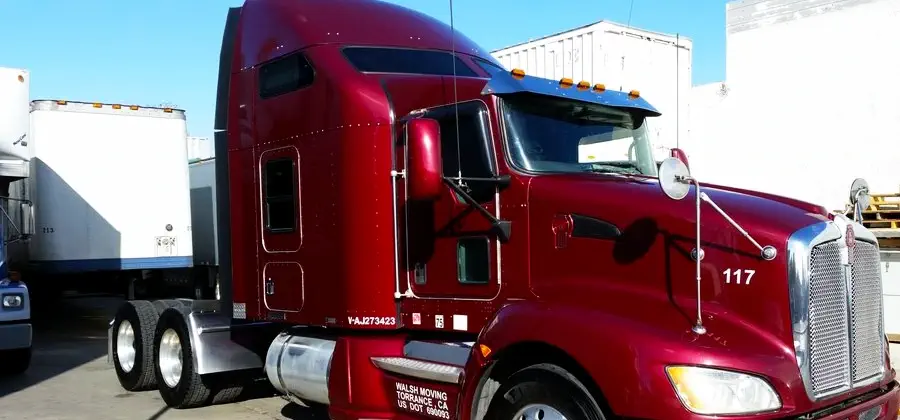 Walsh has over 50 years of commercial moving experience in Southern California. Most of our commercial moves stay within metro Los Angeles, but we'll deliver to any city in the continental USA.
We Move Offices, Restaurants, Warehouses
Hiring Walsh to handle your commercial relocation might turn out to be your best business move to date.
Call us if you need to:
Relocate your business from one building to another in Southern California.
Relocate your business out of state — from Los Angeles to Salt Lake City, for example.
Move equipment from one suite to another within the same building.
Move a single piece of heavy furniture in the office.
Clear an office space for renovation, store the equipment and supplies, and have that equipment delivered when the renovation is complete.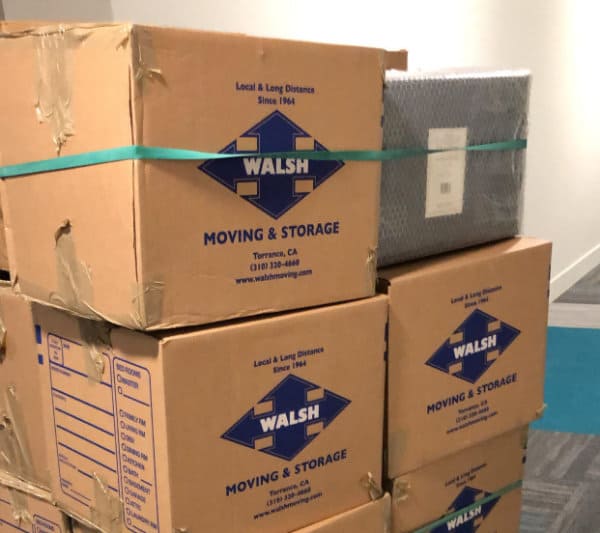 Our Moving Rates
Flat hourly rates are as follows:
$130 an hour for packing and moving. This flat fee includes two professional movers and one truck. No taxes, no fuel surcharges, and no hidden fees.
We can add a third mover to the crew for $50 an hour.
There's a minimum commitment of two and a half hours per trip.
Charges for long-distance commercial moves are based on miles traveled and load weight. Call us for details.
Walsh accepts all major credit cards. If you pay your bill in cash, we'll take 10% off.
Call us for a quote. Our transparent pricing means that you'll never see unpleasant surprises, expected charges, or mystery additions on your bill.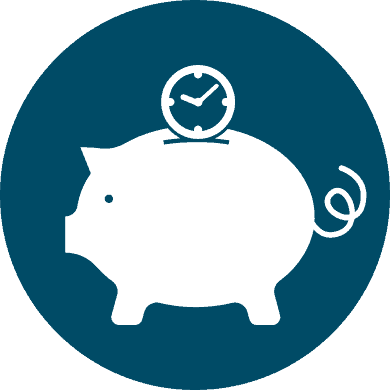 Contact Us Now for Your Moving Quote
The quote sets the price of Walsh moving services.
There are no surcharges, no taxes, no hidden fees. No obligation to hire us.
Call Walsh today at 310-320-4660 or contact us via our online form.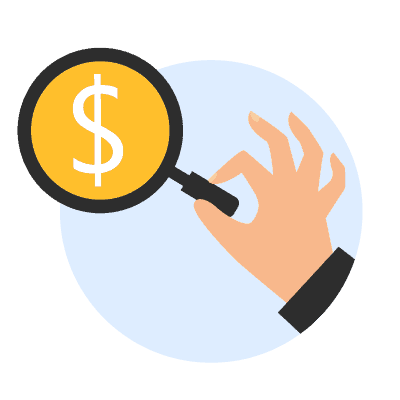 Our Primary Service Area
Walsh Moving has two dispatch locations. One is in Torrance, CA, and the other in Long Beach.
Walsh serves the metropolitan Los Angeles area and delivers to any city in the continental United States. But the bulk of our commercial moving takes place within 50 miles of Torrance.
Our long list of satisfied commercial clients includes:
Habitat for Humanity
City of Torrance
PackShip USA
The ReUse People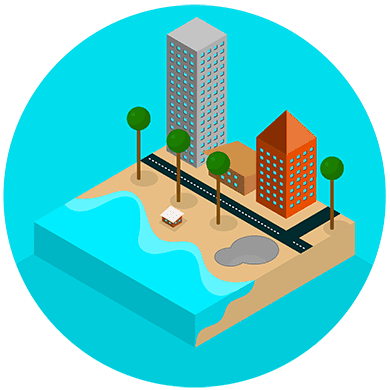 Walsh Warehouse Locations
Torrance Address
1425 Plaza Del Amo, Torrance, CA 90501
Phone: 310-320-4660
Long Beach Address
1208 Gaviota Ave., Long Beach, CA 90813
Phone: 562-591-8776
Other Commercial Services We Offer
Professional packing services. You can have us safely pack that giant neon company logo in the corporate lobby (good idea), or you can DIY it (bad idea).
Short-term commercial storage.
Commercial Vault & Trailer Storage
Wooden vault storage is best for a moderate volume of supplies stored off-site for a short time.
The standard vault is 8x7x5 ft, capable of holding up to 1,500 lbs.
Smaller vaults can hold up to 1,000 lbs.
Short-term trailer storage is suited for:
Business moves where the new space is not quite ready for move-in.
Office renovation, where everything is taken out of the building and stored for a few weeks.
Business liquidation, when you need time to find a market for valuable merchandise.
Our Commercial Storage Rates
We charge $90 per month for standard vault rental and $70 a month for smaller vaults.
Added to these baseline costs is a one-time $25 handling fee for each vault.
You can store a sofa or similar large piece of furniture for $25 a month.
We assess $35 per hour for each visit to our secure warehouse. Included in this fee is an hour of professional assistance from a Walsh staff member.
For trailer storage rates, please call the Walsh warehouse location closest to you.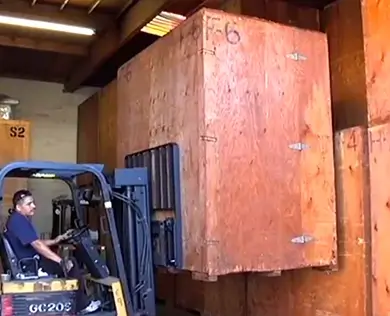 Office Moving
Companies outgrow their space, they downsize to remain competitive, or they look for a better location or a more favorable lease and city tax code.
Since the typical office contains no heavy equipment (other than a couple of refrigerators stocked with kombucha), office moves are easiest to manage from the Walsh perspective.
Still, they can present logistical headaches. In most cases, the office remains in operation during the move.
The movers you hire should be able to adjust to your office schedule and avoid significant disruptions. They should recognize when it's appropriate to remove supplies, furniture, and equipment and when it's not.
At the new business location, the movers should reassemble your office according to instructions and re-establish an optimal working environment fast.
Communication is key. The movers must respect your business needs, priorities, and preferences, and be flexible enough to make contingency plans if anything goes wrong.
At Walsh Moving, we prepare your move in detail before we send out the first truck.
We interview you at length or arrange an on-site visit to get the lie of the land. We calculate the timing of your move, the number of trucks and movers required, and the packing assistance, storage, and supplies you might need.
Careful attention to detail ensures the safety of your equipment and the orderly reorganization of your office space.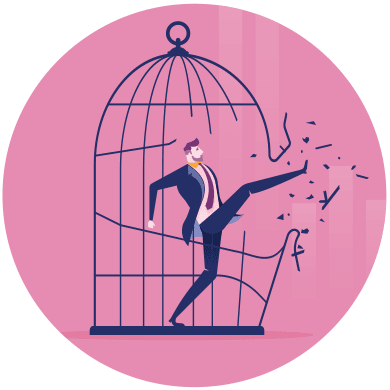 Restaurant Moving
Restaurant moves are tricky because of the special equipment involved. Few restaurant owners install all-new equipment and decor at the new location — not after they've invested tens of thousands of dollars in kitchen equipment, fixtures, and props, some of which are difficult to obtain and essential to their brand or cuisine.
Careful pre-planning is critical to track utensils and equipment.
The move itself becomes an intricate, multi-trip ballet to keep your kitchen and dining areas in action throughout.
Disassembling, transporting, and reassembling cooking appliances, fixtures, and even some decorations demands experience and know-how.
Over the years, we've helped dozens of restaurants and food businesses of all sizes smoothly transition to new facilities. We can help yours, too.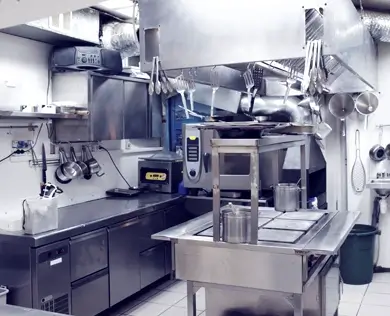 Warehouse Moving
Warehouse moves are among the most challenging. Key factors include:
The complete inventory of goods before and after the move.
Dismantling and reassembling specialized equipment.
In some cases, assembling new equipment according to a diagram.
Maintaining a functional working environment throughout the move, so the client can meet business commitments.
Ensuring that warehouse staff retain access to essential products.
Walsh has long experience in warehouse moves. We know what it takes to plan the logistics of complex moving projects that send lesser movers running for a mental health day.
We'll keep your inventory available and always in reach — and isn't that the whole point of a warehouse?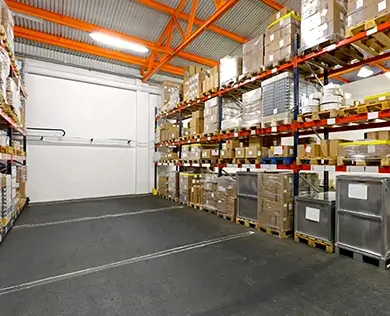 Adjusting to Your Business Needs
Each commercial move is unique. No two commercial clients handle their move the same way. Ever.
Some companies do their own planning and packing. They limit the responsibilities of a moving company to loading, transport, and unloading.
Other companies leave all aspects of a move in the hands of professionals, from planning through packing, transport, and unpacking and assembly at the new location.
At Walsh, our moving expertise and experience extend beyond offices, restaurants, and warehouses to most types of business in metro Los Angeles. We'll give you as much help as you need, or we'll just load and drive if that's what you prefer.
Call us. Together, we'll figure out what's best for your business.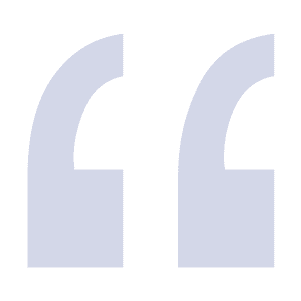 "I'd recommend Walsh highly and the price was right!"
D B. O
Torrance, CA
Yelp, 9/8/2020
Had our floors redone – everything in the house had to go!
I'm too old to be moving furniture. I wanted to call someone local and Walsh in right here in Torrance. Ricardo was very easy to work with and tweaked his schedule to meet my needs. The guys that came and moved our stuff were friendly, COVID safe and careful with our things.
I'd recommend Walsh highly and the price was right too!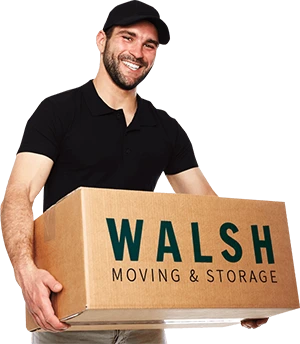 Why Walsh Professional Moving?
We take ownership of your move from start to finish. We don't subcontract or hire out any portion of your move to other companies.
We guarantee your local moving pickup and delivery date. Some other companies aren't able to do this.
We have an A+ rating with the Better Business Bureau.
We carry full insurance. If anything breaks during your move (unlikely), Walsh pays for the damage in most cases.
Walsh movers are covered by company medical and Worker's Compensation. But if someone gets hurt during your DIY move, you, the homeowner or renter, could be liable.
Walsh offers short-term storage for companies and customers in transition. If your permanent digs aren't ready, we'll keep your things in secure vaults or trailer storage until they are.