Packing Tips for Moving Cross Country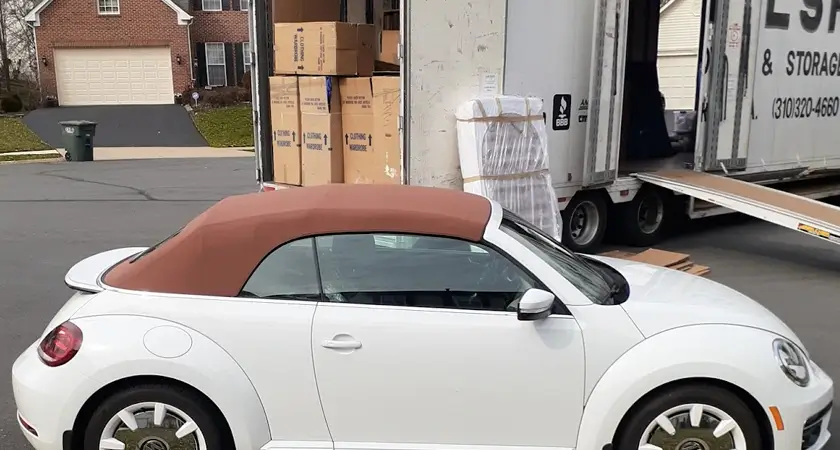 Moving is a daunting task for most people. They have stuff crammed into closets, stashed in spare rooms, and hidden in the crannies of the cupboards — things that have collected over the years like dust bunnies. Where to begin?
Pack the Things You Don't Need First
Start by packing the things you don't use every day — items that are pushed to the rear of closets or kept loose in open boxes in the garage. You can pack these well before your move without causing as much as a ripple to your lifestyle.
Do a bit at a time, and you'll be surprised at how much you can accomplish before the move. Once you've tackled the easy stuff, you can take on the more challenging task of deciding what to keep and what to get rid of. Packrats and hoarders, beware! The next bit of advice may hurt!
Declutter: Keep Bins & Boxes for Charity
One of the more agonizing aspects of moving is deciding what makes the cut. What to take with you and what to leave behind.
After all, there's only so much space in a moving truck, and everything has sentimental value. That's why you kept it, right? Even the ketchup packets from Dodger Stadium the year The Blue Crew won the World Series.
But this is your big opportunity to declutter! Do you really need three complete sets of saucepans? Textbooks from college? Bottles of lotion that date back to high school?
Set aside any items you no longer need or want (or have an impartial party do this for you), and donate them to charity. Let's rip off the bandaid.
It'll make your move easier — and it might just change someone else's life for the better. It might even change your life for the better! And who knows, you might even end up with a bit of extra space in your new home — extra space for more stuff.
Label Boxes Clearly
Be sure to label each moving box clearly, indicating its contents and the room where it needs to go. This will make unpacking a breeze and help avoid any mix-ups.
Instead of having to pry open each box to figure out what goes where, you'll be able to unpack fast with everything in its rightful place.
Wrap Breakables Carefully
Pack your breakables with care using bubble wrap, packing paper, or foam peanuts. Label each box containing fragile items as "Fragile" in large letters so that everyone handling your belongings will know to take extra care.
It's best to pack these items in smaller boxes, which are easier to handle, have less space for jostling, and can be loaded on top of large, heavy boxes.
You may want to purchase specialty boxes for pictures, lamps, porcelain dishes, and other valuables. Large hardware stores often carry these.
Or, if you're in the neighborhood, drop by. We sell all kinds of packing boxes at our Walsh offices and warehouse.
Use Your Clothes as Padding
Put your clothes to work if you're running out of packing materials! Stuffing your socks and underwear into empty spaces will help keep your breakables safe and sound during transport.
You can also use towels, linens, and blankets for extra padding — just be sure to pack these items in a separate box, so they don't get lost among your other belongings.
Pack an Essentials Bag
Don't forget to pack a bag of essential items — things you'll need on the trip and your first night in your new home. Include items like toiletries, pajamas, a change of clothes, and medications.
Other essentials:
Clothing for a few days
Linens
Food and snacks
Coffee maker and cups
Dishes and silverware
Important paperwork
Chargers for electronics
Use Quality Packing Materials
Any experienced mover will tell you that quality packing materials are worth the extra cost. Flimsy boxes will collapse under the weight of other packages during transit, potentially damaging your possessions.
Plus, quality packing materials will make it easier to pack and unpack your things, saving you time and frustration. So be sure to invest in quality packing materials. It makes to dumpster dive for damaged boxes to save a few bucks on a cross-country move already costing several thousand dollars.
Pack Separate Boxes for Each Room
When packing your belongings, it's helpful to think about rooms. That is, to pack a box for each room in your home. This will make it easier to unpack when you reach your destination, and it will simplify the packing process.
For example, if you're packing a box for the kitchen, include only items from the kitchen. Don't mix in things from other rooms, as this will make unpacking a nightmare.
The same goes for your other belongings. Pack each box by room of origin, and you'll be glad you did when it comes time to unpack.
Pack a Separate Box for Valuables
When it comes to valuables, it's better to err on the side of caution. Pack your most valuable items — things like jewelry, family heirlooms, important documents, and electronics — in a separate box that you can keep with you during the move.
Do not include valuables in the "tourist-class" truckload with kitchen pans and pet supplies.
Use a Spare Room to Stack Boxes
If you have a spare room, use it to store packed boxes until it's time to load them onto the moving truck. This will help keep your living space tidy and organized during the packing process, and it will make it easier to find things when you need them.
Start Packing Early
The sooner you start packing, the better. Packing is a time-consuming process, and it's easy to underestimate how long it will take.
So start packing as soon as you can, and you'll be glad you did when moving day arrives.
Ask Walsh Moving & Storage for Help
Look no further than Walsh Moving & Storage for a reliable, long-haul mover. We serve all 48 contiguous states and offer competitive pricing by the weight and miles of your shipment.
Unlike many other movers, we have a 1,000 lbs minimum — most companies require a 4,000 lbs minimum. And if you're moving out of the Los Angeles area, we can pick your things up any day you wish.
Delivery is typically 3-15 days after pick up, depending on your destination. So no matter where you're going in the country, Walsh Moving & Storage can handle your move!
Related Links