How to Pack Electronics for Moving, Safely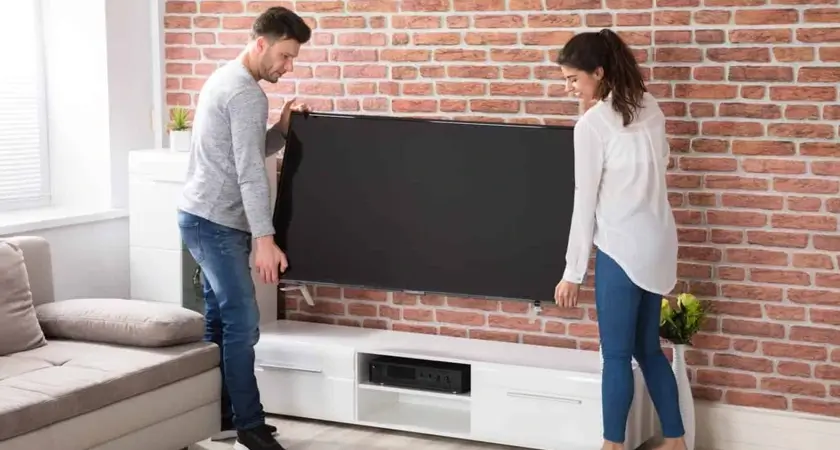 We always take special care of fragile collectibles when we're moving. We secure furniture with extra padding and label boxes to ensure things don't get lost or misplaced.
But we sometimes forget about electronics. Most household electronics are durable enough for everyday use; moving is another story.
It doesn't take much to scratch or crack most electronics. Critical parts can get lost or damaged. Something as trivial as a lost remote can become a source of unbridled rage.
These packing tips may help you prevent costly damage when moving electronics. Invest a little extra time in packing and preparation to avoid headaches and heartache at the other end of the journey.
Use Original Packaging When Possible
Most people don't think twice about tossing the box their new television came in — after all, who needs the clutter around the house?
But, beyond your hoarder's instinct, there are several good reasons to hang onto that cardboard box.
It's the perfect size for your TV — no need to worry about finding a bigger box or padding it with bubble wrap.
The packaging is specially designed to protect your delicate electronics from damage in transit.
The packaging tells you what the box contains. There's no need to label when the box's front panel sports the glowing image of a 98″ TV.
Finally, the box usually offers essential information like directions for setting up your TV and where to plug in the cords.
So next time you're tempted to recycle that cardboard box, think again — it might come in handy down the road.
Organize Cords & Cables
We've all been there. You get to your new place and start setting up your TV, only to realize you have no idea where the cords are.
Label each cord with a piece of tape or marker. If you have a lot of cords, you can label each one with its corresponding electronic.
It's good to take a picture of the cord setup before unplugging anything. This will guarantee you can put everything back in its proper place.
Moving pros suggest color-coding cords so that you can correctly match plugs and cords with their electronics. Labeling does the same thing, but color-coding makes the process a snap, so simple a child can do it!
Avoid using plastic ties or zip ties to keep cords organized. They add clutter, and they can also be challenging to remove. Instead, opt for velcro straps or rubber bands.
Finally, when packing cords, try to group them by appliance or device.
Be Smart in the Way You Pack Electronics
Electronics often come in several parts and with sundry accessories. Some parts are superfluous, but others are critical for the device to function.
Be sure you know what's what before you start packing.
Make a list of every piece and part for each electronic device, and cross them off as you put them in boxes.
Place all cords in clearly labeled bags.
Boxes tend to shift in transit, and loose cables can scuff. Use bubble wrap or paper to separate cords from electronics.
Pack devices like TVs or electronics with screens upright to reduce scratching or parts breaking off in transit.
TVs are designed to stand. Let them stand during the trip!
You can buy special boxes for TVs and other electronics or hire a professional to do the packing for you, which is usually the safest bet.
Empty Before Packing Up
Remove all batteries from electronics and ink cartridges from printers.
Fluctuating temperatures in the truck and shifting boxes can lead to battery explosions and ink leakage, with disastrous results for your possessions.
A battery that bursts from overheating will likely ruin your electronic device and anything else packed nearby.
Leaking liquid ink cartridges, if close to clothing, furniture, and anything else that stains, you get the picture.
Pack Electronics Last, Unpack First
You might be tempted to get your big-ticket items out of the way first so you don't have to move them more than once. Resist that urge when it comes to electronics.
Pack them last, so they're the first things you unpack at your new place to mitigate any damage caused by shifting.
And the faster you set up your entertainment center, the sooner you can start enjoying your new home. Wouldn't you rather unpack to music?
Store Electronics in a Climate-Controlled Space
Don't abandon electronics in the back of the truck or the garage! Bring them into the house as soon as possible.
Leaving them out in the garage, truck, or carport exposes them to temperature extremes and possibly the elements.
You may have to rent out storage until your new digs are ready. If so, find a secure, climate-controlled storage facility. You'll want a unit on the second floor in areas prone to flooding.
Or, if you're in the downtown LA area, call us at Walsh. Our short-term vault storage is as secure as it gets, and since our warehouse is only a few miles from the Pacific Ocean, it never gets too hot or too cold. It's ju-s-s-st right, like Baby Bear's porridge in Goldilocks.
Packing Protocol in the Storage Unit
Keep electronics covered in the storage unit, and place them towards the back. Even secure storage facilities can be susceptible to theft, and items toward the front of the storage unit are most vulnerable.
Unless you're storing with Walsh. Thieves would need a forklift to break into our stacked vaults and make off with your 98″ 4K OLED TV. Just sayin'… We're here to help.
Store your electronics in well-distributed boxes to reduce the risk of crushing. Always apply generous quantities of padding like wadded newsprint, bubble wrap, and soft towels and blankets.
Use pallets or wooden skids to raise electronics off the floor and keep them dry in case of flooding. "Flooding" includes heavy rains that can pool and inundate a lower-level storage unit.
Hire Professionals Who Know How to Pack Electronics
When in doubt, hire professionals for the big moves. They know how to properly pack and unpack electronics and will take on all the liability if something goes wrong.
A full-service moving company like Walsh will provide boxes, packing materials, and the labor to get your electronics — and everything else — safely to your new home.
Related Links