How to Make Sure Your Furniture Fits in Your New Home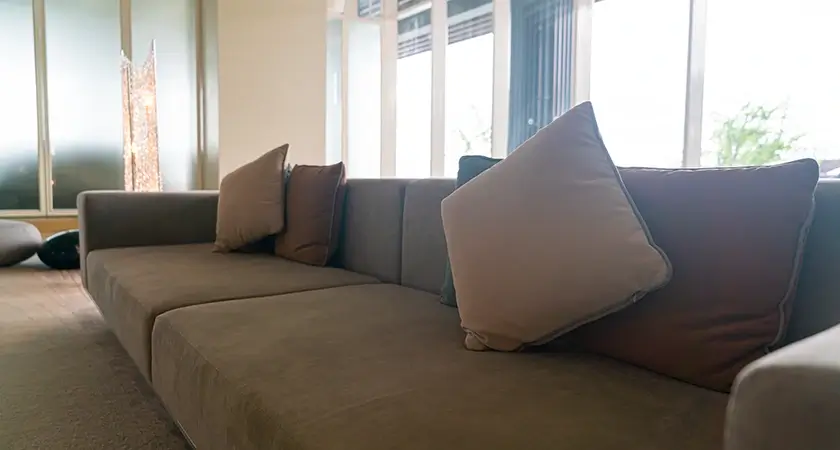 You're all ready to move into your new home. The moving truck has arrived, and the big furniture is ready to be unloaded into your new home. Your movers start out with your large sofa. However, you get nervous as they have to twist it on an angle to make it fit through your new front door.
Then, things only get trickier. Your sofa doesn't fit in your new living room how you had imagined it would! In the new position, it will be a tight fit to get the armchairs in as well. You start to wonder why you bothered packing up and moving your sofa if you'll have to sell it and get a new one anyway.
The above scenario is one of the reasons it's essential to make sure your furniture fits in your new home before moving day. That way you can make an informed decision about whether to keep your furniture. After all, it's a waste of time and resources to move furniture you're not going to keep in your new home anyway. So, how can you make sure your furniture fits in your new home ahead of time?
Get Measurements
You'll need measurements of your new house, which means you need a basic floor plan. You may receive this information from your real estate agent, or you may have to make it up all on your own.
Basic measurements for each room should provide you with enough information to determine whether your furniture will fit well in the space. However, in addition to room measurements, doorway measurements are another essential piece of the puzzle. Without these measurements, you won't know whether your furniture will even fit through the doorway!
That can be really disappointing and leave you in a lurch, even if your furniture does fit nicely in the room where you'd like to place it. Then, you'll need measurements of your furniture. You can keep this to the major pieces you have such as tables, sofas, armchairs, and beds.
Any other major pieces such as china cabinets or grandfather clocks should also be included. When considering measurements, don't forget to consider height. Do you have any floor-to-ceiling pieces? If so, be sure that your new home can accommodate the height.
Make A Mock-Up
With all of this information in hand, it's time to try your designer hat on. Draw some mockups of your new home and consider how you might place your furniture.
Sound daunting? Not everyone is a born DIY mock-up artist. If you need help in the design department, there are many free online apps you can try. For example, Homestyler allows you to create floor plans, including in 3D so that you get a visual representation of how your furniture will look in your new home. Room Sketcher offers a similar app that also allows you to create a floor plan and experiment with placing furniture in different rooms. These apps even let you add color to the walls, place windows, and more!
Make Hard Calls
Does all of your furniture fit beautifully? Congratulations! You don't have to make any hard calls. But, like many people, if you run into some space issues, you'll have to decide how hard you'd like to work to accommodate those pieces in your new home.
Alternatively, you can shop for some new furniture that fits better in your new home. Keep in mind that in addition to size, the style of your new home differs from your current home. In looking at the floor plans and set-up, you may decide that the pieces you have now just don't match the colors or style in your new home.
Label Furniture
With your mock-ups and measurements done, it's time to plan for moving. Label your furniture, noting on each piece which room it's going into. This will help your movers or helpers take the furniture directly to its new home on move-in day.
Moving is an overwhelming task. The last thing you want is to run into unexpected issues with the sizing and placement of furniture on that stressful move-in day.
By looking ahead, you'll solve problems before they arise. You might also save yourself some money and heartbreak transporting furniture that would never have a spot in your new home anyway. So, get out that measuring tape and start taking down the numbers! On moving day, you'll be glad you did.